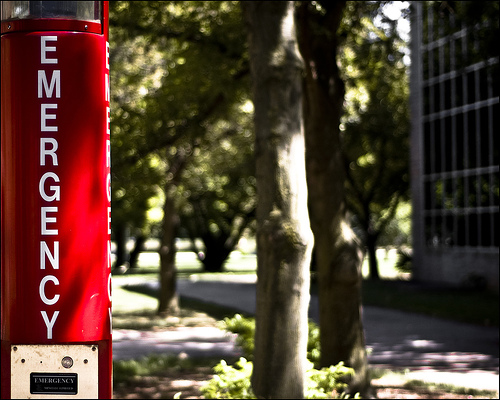 A school lockdown is when teachers, students and staff are directed to hide in their classrooms with the door locked until onsite security guards or police authorities can address or subdue a perceived or real threat.
While it's a horrifying scenario for parents and school officials, it is necessary for children, teachers, school staff, and even parents to prepare for this type of emergency.
A school falling victim to crime is utterly devastating an unimaginable. But we have to prepare at all costs. Violence is unpredictable, and the latest spike in school attacks and threats constantly remind us we need to be on guard. In the event of a school lockdown, here are several things that students and school staff should to be safe.
What to do during a lockdown:
1. Don't Assume It's a Drill
No one expects threats at school. However, survival in the event of a school lock down can come down to actively perceiving the dangers of the threat. The most important thing to do when you are notified of a lockdown or hear of an emergency in school is to take it seriously. Whether it's a drill or not, train your mind to think it's the real thing and be as alert as possible.
2. Find A Place To Hide
In the event of a threat, your priority is to keep yourself safe. Keep way from open areas where you or your students are visible to a potential attacker during a lockdown. Find places to hide, preferably in a place that is not easily accessible and away from windows.
3. Lock Your Classroom
As soon as you are aware of a potential threat, lock your classroom. Shut the blinds and dim the light. If you are in a facility other than the classroom and there is no place to hide or run to, barricade the doors as fast as you can. Try to be discreet and quiet while you are doing this, as to not attract the attention of the threat.
4. Try Your Best To Stay Calm
It's hard to stay calm during emergencies but it is vital to do so. Panicking during a lockdown can get you and those around you in trouble. Stay calm and remember what you practiced in your school's emergency drills. Do not call attention to yourself during a lockdown. Keep quiet and stay as far and hidden as you can from the threat. Keeping your calm during a school lockdown can save your life and those around you. If you are hiding, don't go out until the authorities tell you to.
Preparing Your Campus For A Worse Case Scenario
Do you have an emergency plan in place in school? Are your students and staff prepared? Create a strategic evacuation plan and survival plans for every scenario, then drill everybody periodically until it becomes second nature. What should your students do if they are in a classroom when a lockdown occurs? Who should your staff call? How should they respond? What about the people in the hallway? Or the library? Or the cafeteria? Develop a plan for every possible scenario and practice. Preparation for emergencies will help avoid panic and confusion in the event of an actual lockdown.
To help your campus prepare, you can hire the service of Houston security consultants. They can help you create emergency plans, analyze the vulnerable spots in your campus, as well as develop ways to keep it safer. If your campus employs Houston onsite security guards, make sure they are a part of your drills. They can help facilitate the drill and work hand in hand with whoever is crafting your emergency plans to make it more effective.
Develop a way for your staff or students to easily communicate with your onsite security guards or the Houston police district. Create a short code your students or staff can text to a security number during a lockdown, when they are hiding and cannot place a call. The codes should be able to communicate what they are faced with, where they are, and what they are doing.
Image Credit: KennethMoyle