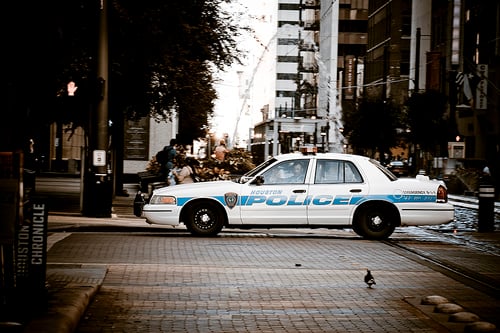 There is no better wake up call for Houston storeowners than that of a heist worthy of front-page headlines.
Since the beginning of time, robbers have stunned towns with their master-thievery and it's a matter of fact that at some point they're bound to strike again.
Don't let your store be their next target. Learn from some of the worst Houston store heists to best prepare against a similar fate.
1. The Galleria Getaway
In August of 2013, five men decided to jack some designer purses from the Chanel boutique inside the Galleria. The group of thieves were dropped off by a black dodge pickup truck around 4:30am and smashed through the store window. Once inside, the group of men snatched about 30 purses valued at nearly $4,000 a piece before fleeing. With their getaway driver parked at the planned exit location, the five robbers should have had a perfect escape. But they didn't.
The Galleria utilizes Houston onsite security guard companies for their after-hours protection. The getaway driver spotted a security guard and sped away, leaving behind the felonious five. The robbers dropped their loot and sprinted off across the parking lot. Two of the men were caught immediately by the armed/unarmed security guard service and brought in for questioning and charges. Without the presence of Houston onsite security guard companies like the one on duty that night, these bandits could have gotten away with almost $120,000 worth of merchandise.
2. Cell Phone Store Catastrophe
For some store heists, the cost is far beyond that of stolen merchandise. Back in February of 2013, three men under the age of 24 wore masks, forced entry into Waraich's cell phone store and demanded cash. Waraich, the storeowner, cooperated with the men but his fate had already been decided. He was shot and pronounced dead shortly after arriving at Memorial Hermann Hospital. The Houston Police Department was able to track down the getaway car, which lead to the arrest and detainment of all three men. They are suspected of being involved in other armed robberies in the area.
The moral of the story? Even if you think you know how to handle a break in, you can never guarantee what the outcome might be. Utilizing Houston onsite security guard companies for armed/unarmed security guard service could be the difference between life and death.
As a storeowner, your best security move is to hire a security guard that is professionally trained to defuse armed robberies like this. The store re-opened its doors with an armed guard posted outside to keep customers and employees safe while the robbers were caught.
3. Subway Sandwich Steal and Slay
In September of 2013, two teenagers under the age of 18 decided to rob a local Subway store. With pistols in tote, the two burst into the store at about 9:20pm and robbed the place. A customer, who was there eating at the time, attempted to fight back and was fatally shot.
This tragic robbery has two important lessons for storeowners. One, protection isn't just about defending your assets. It's about keeping your customers safe, too. Had there been an armed/unarmed security guard service in place, they would have known how to handle the situation, potentially saving a life. And lesson two, robbers come in all different shapes, sizes, genders and age.
A couple of 17-year olds might be the last people you would suspect as they enter your store at 9:00 at night, but the truth is – anyone is capable of doing your business harm. Houston onsite security guard companies are specially trained to identify threatening people before they even have a chance to act.
4. Bank Burglaries in Bulk
Our last store heist story isn't about a single robbery, but rather a major spike of industry specific robberies. According to the FBI 119 bank heists were reported in Houston between January and August of 2013, a 35% increase since the previous year. Nearly 80% of these criminals from 2010 to present date have been convicted of their crimes but some of the most brazen still remain at large.
These robberies have slowly increased over the years, which means that now more than ever, it's time for storeowners to better protect themselves and their assets. There are Houston onsite security guard companies with guards that are specifically trained to protect financial institutions. Armed/unarmed security guard service will make your bank look a lot more difficult to take advantage of and could completely deter robbers from ever targeting your facility.
The takeaway of this article is this – storeowners can't always depend on luck, law enforcement or their own intuition when it comes to robberies and break-ins. And with violent break-ins becoming more popular than ever, simply installing a surveillance camera isn't enough. You need onsite guards who can disarm and debilitate dangerous thieves before they harm you, your employees, your customers or your assets.
Contact one of the Houston onsite security guard companies and ask to speak with a security consultant about the specific needs of your store. It's one step closer to a safer tomorrow.
Image Credit: .imelda