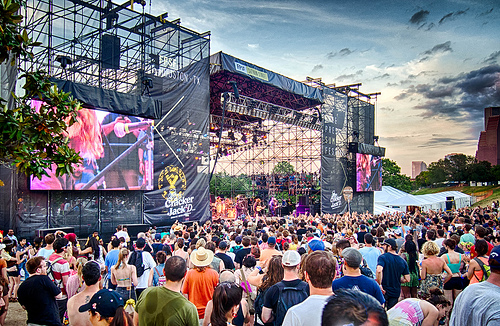 So you're involved in coordinating an event in Houston that will be held in a wide-open space. One of the first concerns you should have is – how will you keep everyone attending safe and secure? Events held indoors are easier to manage because onsite security measures can be placed at all entry and exit points to ensure that no one comes or goes without proper safety screening.
When the event venue happens to be a wide-open space, there are no real boundaries to help manage the parameter of the event and trouble can more easily slip through. Here are 8 tips for organizing a secured open-space event in Houston.
1. Hire an Onsite Security Guard Service
There is no getting around the absolute necessity of onsite security guard service during an open-space event. They work to keep your event safe in many ways. First, the presence of onsite security guards are often enough to deter any criminal attempts. Second, onsite event security guard service providers are specially trained to handle any size event in any venue type. Through an onsite event security guard service, you'll rest assured that professional guards are patrolling the grounds, monitoring visitor activity and managing the crowd to keep things safe and fun.
2. Consult About the Grounds
Prior to the event, visit the grounds that will play host to the event and visualize any possible problem areas that could put your visitors at risk. Are there any natural hazards like ponds or rivers? Is there an adequately lit parking area that can be patrolled by an onsite event security gaurd service to ensure property protection? How do you plan to set up for this event and direct the flow of human traffic? Reaching out to security guard service consultants in Houston is a priceless move to make during this step. They know what hazards look like and are highly trained to identify and prepare for every bump that could derail your event.
3. Notify the Proper Local Authorities
You'll want to make sure that you coordinate your event in conjunction with state and local laws. Make sure that all guidelines are met, all licensure is obtained and authorities like the local police or fire department are aware that you're planning for an event. In the off chance that something terrible befalls your event, they will be prepared to respond immediately. It's also preferable to ask your onsite event Houston security guard service to work with these local entities so that all teams are in communication and ready to spring in to action if necessary.
4. Clearly Outline Expectations & Rules
This tip is especially true when alcohol will be a part of the event. On advertisements for the event, be sure to mention restrictions and rules so that your audience is familiar with the dos and don'ts of the event before they arrive. Post the rules outside the event and in various places around the event to keep a constant reminder in front of audiences that there are restrictions that must be followed.
5. Create Boundaries
If there are restricted areas, rope them off and post signage that wards away trespassing. Control the flow of human traffic by clearly marking designated walking areas and blocking off the areas you want to keep audiences out of. You can funnel attendees in and out of your event safely by clearly letting them know how to traverse the open space. Remember, over-planning is the key so always anticipate a larger crowd than expected.
6. Parking Lot Patrol
Be sure to arrange for some form of parking lot patrol. Onsite event security guard service in Houston typically offer parking lot guidance because it's a critical component. If you are expecting a large attendance for the event, that means a high volume of cars, all of which will be fighting for the closest space to the entrance. Having a professional onsite event security guard service in place will ensure order and safety while guests arrive and leave and it will help to keep their cars safe from crime and vandalism.
7. Have an Emergency Plan in Place
When it all boils down, your planning and preparation is all for one thing – preparedness. If your event is structured to handle the worst, it will be better made to provide the best. Have a code red, worst possible scenario plan in place so that no matter what, your event is ready for anything.
8. Make Sure Your Staff is Well Informed
In addition to your onsite event Houston security guard service, make sure your event staff is well informed and trained to handle the multitude of scenarios that could occur throughout the duration of the event. They should be a part of any emergency response expectations and they should know immediately who to call if an emergency does arise. Prior to the event, organize event training with staff to familiarize them with rules and how to respond. A well-orchestrated staff will help to ensure that things run smoothly from start to finish.
By taking these tips and applying them to your event coordination strategy, you'll be able to rest assured come time to open the doors of your event that every base has been covered, every scenario has been thought of and every precaution has been taken to keep your attendees, staff and property safe. With the help of an onsite security guard service in Houston, your event is sure to be a security success!
Image Credit: Uffdah!!!