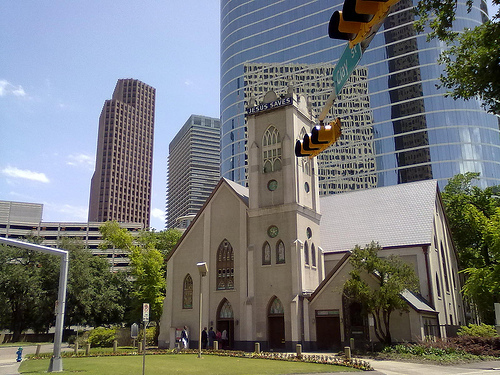 Is your religious venue as safe as it could be? According to the
FBI
, one in five hate crimes involve religion, a shocking statistic that is causing more and more churches to re-evaluate security at their establishments.
Since the beginning of time, religion has been a commonly argued preference and the unfortunate truth is – that's not likely to change any time soon. The best you can do is make sure that your religious venue is as safe as possible so people can practice their beliefs safely and without threat.
Here are four ways to improve safety at religious venues.

1. Find a Reputable Houston Security Guard Service
Your first step to heightening security for your church is to find the right security provider. There are several things you should look for in a Houston security guard service.
Security guard agencies in Houston should possess experience working with religious venues. The better they understand the specific threats that plague your industry, the better they will be able to protect against them.

Security guard agencies in Houston should be able to provide all levels of protection. From armed and unarmed onsite security service to 24-hour monitoring, you'll want access to the right services to meet your safety concerns.

Security guard agencies in Houston should have a trusted reputation. Do your research, find out what others are saying about the providers service. Ask the security service what their hiring process is like. Do they conduct background checks on employees? Drug tests?

Security guard agencies in Houston should be licensed and certified. If the proper licensure and certifications cannot be provided, you've got yourself a red flag that this might not be a reputable and safe security service.

Security guard agencies in Houston should offer security consulting. It's a critical first step to understanding your venues security needs and you'll want the opinion of a professional.
2. Utilize a Security Consultant
Leave onsite analysis to the experts. They will visit your site, assess the facility and grounds and identify any weak points in the system. From there, you can talk to them about specific concerns you might have. They will work closely with you to develop a security plan that will better protect your religious venue from crime and vandalism. And because every venue is different, you'll be acquiring a custom approach to your protection by utilizing a security consultant.
3. Know Your Options
The more diverse the suite of security services, the better equipped a Houston security guard service will be to defend your religious venue. During your consultation, ask about all of the possible security services that could be implemented. The list should look something like this:
Onsite security service

Security patrol

Armed or unarmed guards

Uniformed or civilian clad guards

Stationary security posts

Entrance and exit monitoring

Visitor screening

Escort services

Emergency coordinating

Equipment safeguarding

Parking lot patrol

Alarm response

Crowd control

On-call dispatch

24-hour surveillance
4. Keep Up-To-Date With Current Local News
Know what's going on in your community. Too often, people fall victim to criminal activity because they didn't watch the news and heed the warnings about a streak of burglaries or muggings. Make sure you keep up-to-date on any foul play happening around your religious venue, especially if you're holding your service in an open-space are in Houston. Talk to people in the community and find out what their concerns are. There are even applications or Internet sites that you can use to find out why types of crime have been reported and where in the community.
Use every possible tool to your advantage and take great care in selecting the perfect security protection partner for your religious venue. There will likely be a few companies to choose from, but the most professional and dependable provider will possess industry specific experience, security consulting and a full suite of onsite security services to choose from. Pair that with increasing your own awareness and you'll give your religious venue every potential for optimal safety.
Image Credit: matthew.devalle