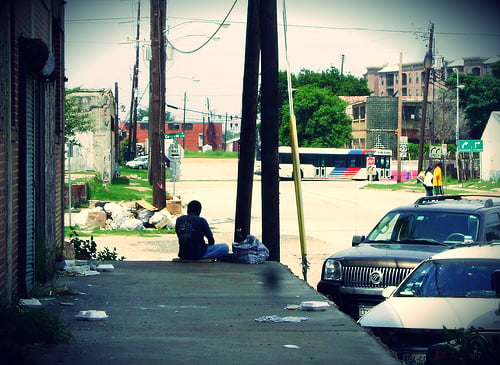 Two Texas communities made headlines this year for ranking among the top 25 most dangerous neighborhoods in America! A study conducted by NeighborhoodScout.com analyzed FBI data from 17,000 local law enforcement agencies to compose this list and sadly, two of Houston's own made the cut.
The historic Houston Third Ward neighborhood, which is centered at the intersection of Dowling and McGowen took 15th out of the 25 most dangerous areas and showed a crime rate of 75.89, which roughly translates to a 1 in 13 chance for residents to become victims of crime in one year.
What's worse is that Sunnyside, a historically black community located south of downtown Houston off of Texas 288 ranked as the 6th more dangerous neighborhood. Sunnyside's crime rate peaked at 91.27, which translates to a 1 in 11 chance for residents to become victims of crime after just one year.
It's certainly not an accomplishment that folks are proud of but as with any unwanted situation, the best anyone can do is learn something from it. To honor that philosophy, we've come up with 3 security lessons to learn from these two dangerous Houston neighborhoods.
1. Don't Judge a Book By Its Cover
There's a reason why this age-old saying keeps popping up, time and again. It's true! When you imagine what the most dangerous neighborhoods in America look like, you might envision dilapidated residential complexes teeming with drug dealers and gangsters. But this year's NeighborhoodScout research turned up communities that look entirely different. Instead, violent neighborhoods in 2013 were generally found to consist of single-family homes or small apartment units in poor areas.
While some of these neighborhoods might indeed fit your initial visualization, not all of them will. It all boils down to statistics. That's why more and more neighborhoods are utilizing residential security guard patrol. Violent crime can sometimes hide where you least expect and having onsite security guard patrol will help uncover these crimes, day or night to improve safety and diminish crime frequency.
2. Be on The Look-Out
One theory as to why areas like Third Ward and Sunnyside have become so crime-riddled is lack of surveillance. If there were an increased risk of being caught, it would be much harder to pull off violent crimes as frequently as they are being recorded in these areas.
Often, the presence of onsite security guard patrol is enough to greatly reduce criminal activity, which is why many neighborhoods are choosing to hire residential security guard services to make regular rounds throughout the day and night. Once criminal action meets consequence, the scale starts to tip in the other direction – toward residents and law enforcement.
3. Tight-Knit Communities Are Key
A shocking 34.3% of the homes in Sunnyside (ranked as the 6th most dangerous neighborhood) are run by single mothers; a rate that is higher than 99.8% of American neighborhoods. What does this tell us? That well built families and a sense of community does matter! That's why Houston residential security guard providers recommend instituting a neighborhood block watch.
The more vigilant and closely bound a community is, the more difficult it will be for crime to pry its way in. If unwanted activity is detected, neighbors are urged to call their onsite security guard patrol to report the situation. Once again, it's consequence to crime that will change crime rates for the better. The key is for communities to start watching out for one another.
At this point, the best that Houston residents can do is learn from these areas to better the surrounding neighborhoods. Zoom in on the security weaknesses of your community and develop a security plan to strengthen them. With the help of onsite security guard services, crime is meeting punishment more frequently. Clean up your streets by doing your part. Watch out for yourself and your neighbors. Look into revitalizing neighborhood block watch groups and talk to your community about enlisting the help of residential security patrol for an added layer of protection.
Image Credit: Patrick Feller